Creating an account
Create your account details​
You may create an account on the Beetlebox User Portal through our sign-up form.
https://userportal.beetleboxci.com/signup
On the User Portal home page, you can see your user token, and you can get your license key by following the Licenses link from the navigation pane on the left. Later, you will need to enter these details into your BeetleboxCI web application in order to run jobs.
Create team member accounts​
As part of the installation process, a python script runs which creates a user account on the cluster. You can use this account to log in to the cluster and set up additional user accounts – you can decide whether or not additional accounts have root permissions or not.
You can browse to the URL of the cluster (this will be determined by the IP of your machine, or the DNS hostname set in your hosts file). Alternatively, if you are on the machine where the cluster is running, you will be able to access the web application at http://127.0.0.1:32767 and log in using the username and password you created during the installation process.
On your user profile, you can see the current user account that you created during the installation process. You can add additional user accounts for other members of your organisation. The screenshot below shows the option to add a new user and shows two additional user accounts.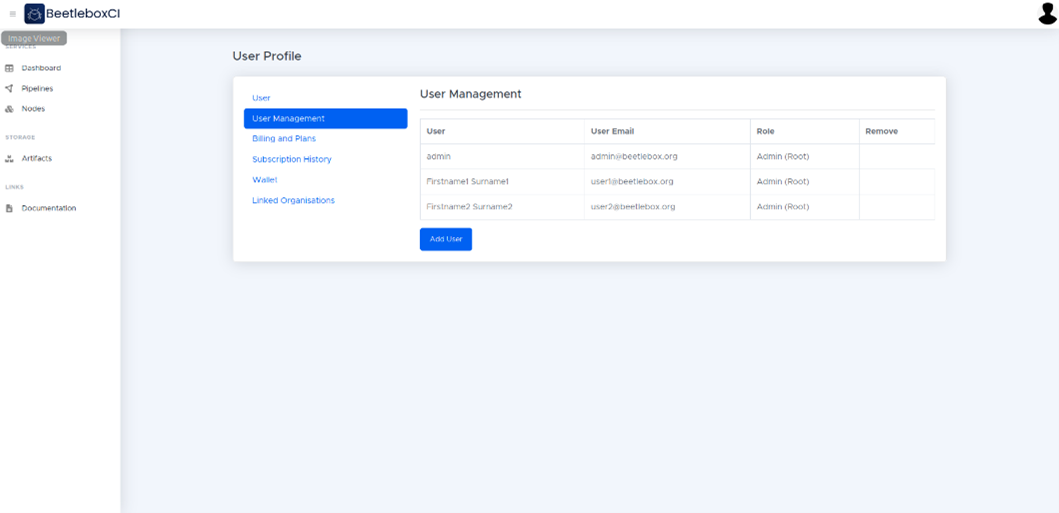 What's next?​